The IBRO Workshop of the Hungarian Neuroscience Society is held every two years and always in January. The announcement of the 2022 workshop as a traditional conference, was a bold undertaking in 2021, but it found out a success!
Since two thousand and twenty in April, even conferences with less than a hundred participants have been held in only a few places, and conferences with hundreds or thousands of participants, if they were announced for last summer, in anticipation of the end of the epidemic, were either cancelled in the end or held online. Unfortunately, the epidemic is not over yet, but the conference co-chaired by Árpád Dobolyi and Katalin Schlett will be held in Budapest on 27-28 January 2022,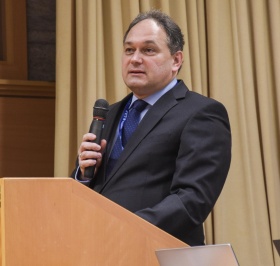 organized by the Department of Life Sciences and Neurobiology of ELTE TTK and the Hungarian Neuroscience Society under the patronage of the Rector of Eötvös Loránd University and the Dean of the Faculty of Natural Sciences, the International Neuroscience Meeting 2022 - IBRO Workshop was a great success.
It is also worth mentioning that the conference was not two but three days long for at least 120 participants, as the HUNDOC, the conference for young neuroscientists, was held on 26 January.
This of course required sponsors - ELTE, the NKFIH Mecenatúra grant (MEC_SZ140942), Richter Gedeon Zrt. and the Brain Research Organization contributed to the realization - but even more importantly, it required Árpád and Kata not to give up. They went to every forum, discussed every possibility with everyone, and kept everyone's spirits up, even in the seemingly impossible moments.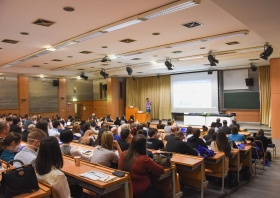 In hindsight, it is easy to say that they were right: the conference was attended by 450 people, with excellent speakers from abroad, a full house and 225 posters on display.
Today, Kata Schlett is relieved to be able to say how she was able to do so since what has been said so far has not revealed everything about the difficulties, of which there are enough without an epidemic.

Kata Schlett
- Today, we smile as we recall that we had to organise the conference three times, firstly because we wanted to hold it in January 2021, then we postponed it to July, and after cancelling it we decided to hold it on 27-28 January 2022.
- And when the potential conference participants had already passed the second and third vaccination, the omicron came. . .

- To say the least, the outbreak situation was unpredictable, as the omicron outbreak was at its peak at the time of the work brigade. It wasn't easy to communicate and agree on the appropriate measures and regulations!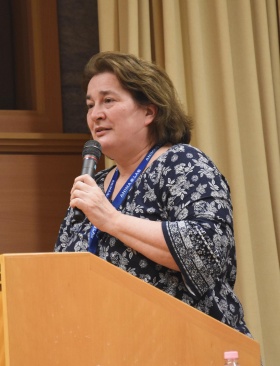 - The fact that the foreign lecturers came now in January is understandable, but you had to coordinate this months earlier!
- There was a big risk, indeed, and so it was a great success that in the end only two of the speakers joined online, everyone else was able to come in person. I have to say, even in "peacetime", this would be a very good result!
- No conference like this would be possible without sponsoring companies. The number of companies was not high, but there was always interest at the exhibitor booths, and there were three exhibitor presentations!
- In an uncertain situation, it was not easy for the exhibiting companies, and it was also a great success that all three exhibitor workshops - Anima Lab, Image Science Ltd and Carl Zeiss Technika Ltd - had a high attendance!
In addition to Kata Schlett and Árpád Dobolyi, all the organisers and sponsors of the conference deserve our sincere appreciation and thanks, but we cannot forget those without whom there would be no conference and who are also shaping its success: the speakers, the poster presenters and the conference visitors!
Among them, of course, we could find many representatives of our institute, and in no small roles.
Zoltán Nusser represented our institute on the programme committee, and Gábor Nyiri gave one of the four plenary presentations - with well-deserved success. Of the four symposia, one was chaired and one talk of it presented by Dóra Zelena (still in KOKI colours), and in another symposium, Ádám Dénes gave a very well attended talk. And the fact that 39 of the 226 posters on display were written by KOKI researchers speaks for itself.